Save on shipping and lower the cost of your entire order.
If you are a mushroom grower or farmer that is serious about your business, you know you need to keep costs low. When it comes to grains, substrates, and even mushroom grow bags the cost of shipping matters.
Get a free bulk quote from us. You might not need a pallet full of grain but we can add it to a partial pallet order of substrate or Unicorn Grow Bags or both. The money you save on shipping is significant.
Paddy Poo™ – the ultimate solution for growing mushrooms like a pro! Our compost-based substrate mix is carefully crafted to provide your mushrooms with the perfect balance of nutrients and conditions they need to thrive.
Paddy Poo™ is the result of years of research and development, and we are proud to say that it has become a favorite among mushroom growers worldwide. Our substrate mix is made from premium compost, coco coir, vermiculite, gypsum, and lime – all of which have been carefully chosen to provide the ideal environment for compost-loving mushroom varieties.
Our substrate mix is rapidly colonizing, which means you can expect increased yields in no time. Whether you are a seasoned mushroom grower or a newbie, Paddy Poo™ is incredibly easy to use. Simply open the sterilized XLS-T bags and start growing your mushrooms!
One of the great things about Paddy Poo™ is that it is incredibly versatile. Whether you are growing oyster, shiitake, or any other type of mushroom, our substrate mix is perfect for you. It is also suitable for both indoor and outdoor cultivation, so you can grow mushrooms all year round.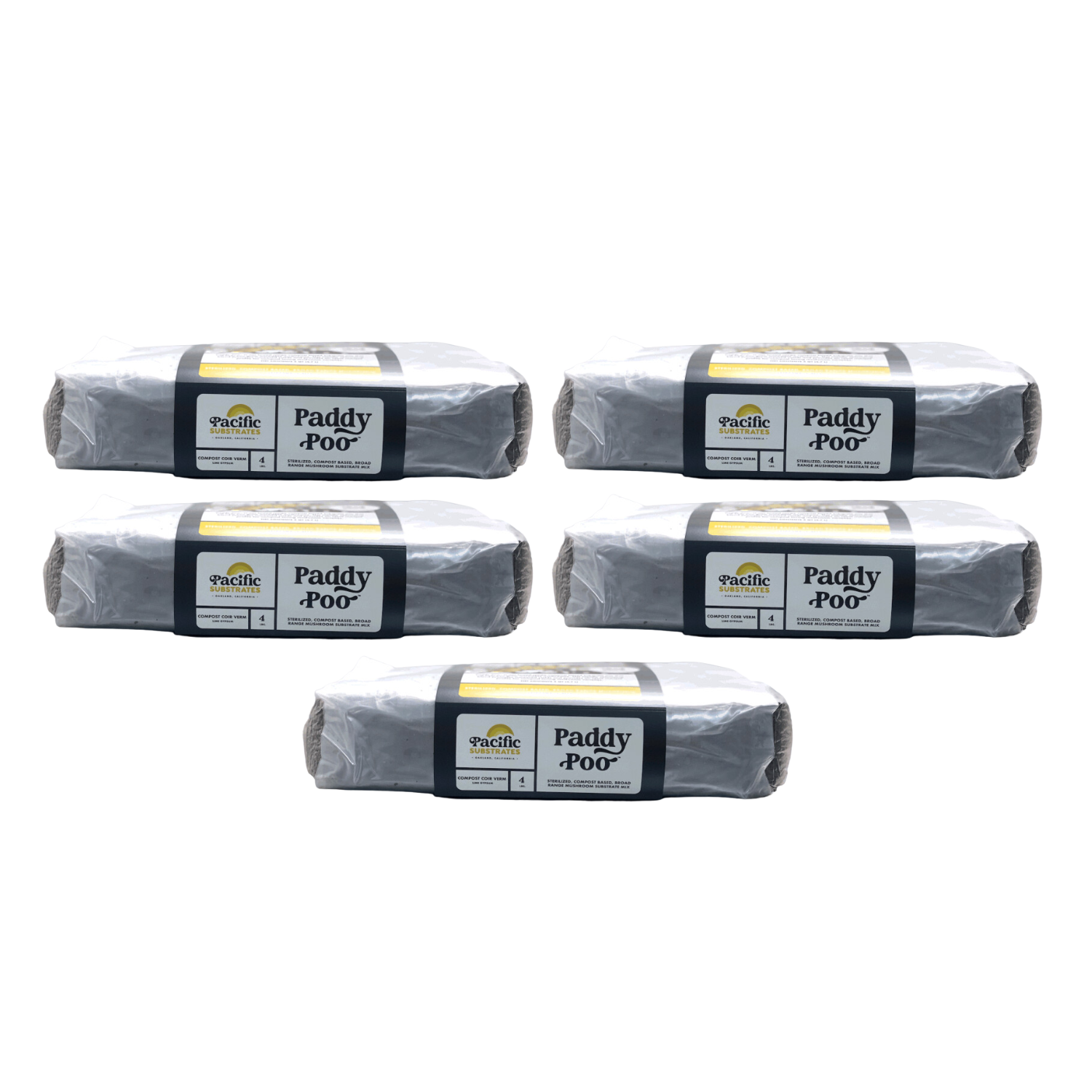 5 x 4# Paddy Poo - Compost-Based Substrate (Sterilized) - Pacific Substrates
paddypoo-5
Product Details
Pacific Substrates Paddy Poo™ is our broad range compost based substrate mix that will help you grow incredible mushrooms. This rapidly colonizing blend promotes increased yields and provides an ideal nutrient profile for compost loving mushroom varieties. Paddy Poo™ includes premium compost, coco coir, vermiculite, gypsum, and lime, and comes packaged and sterilized in XLS-T bags.
This product is intended for use with fully colonized Pacific Substrates Goonie Grains™ grain spwn at a 2:1 substrate to spawn ratio. Whether you're fruiting in tubs, bags, or beds, Paddy Poo™ is the ideal substrate for compost loving mushroom varieties.
** At field capacity and ready to use. Ideal for fruiting in bags or monotubs. **
Weight: 4 lb (1.8 kg)
Ingredients: compost, coco coir, vermiculite, water, gypsum, lime
Guaranteed analysis: calcium 1.8%, potash 1.5%, potassium 1.2%, nitrogen 0.7%, phosphate 0.4%, pH 7.1, moisture 56%, organic matter 43%
Money back guarantee: Pacific Substrates offers a 6 month money back guarantee on all products. If there are any manufacturer defects, return the unopened product for a full refund.
Save this product for later