Thor Vacuum Walkthrough
Watch this 8 minute video to see the power of the new Thor Vacuum attachment and see just how labor saving these powerhouses are.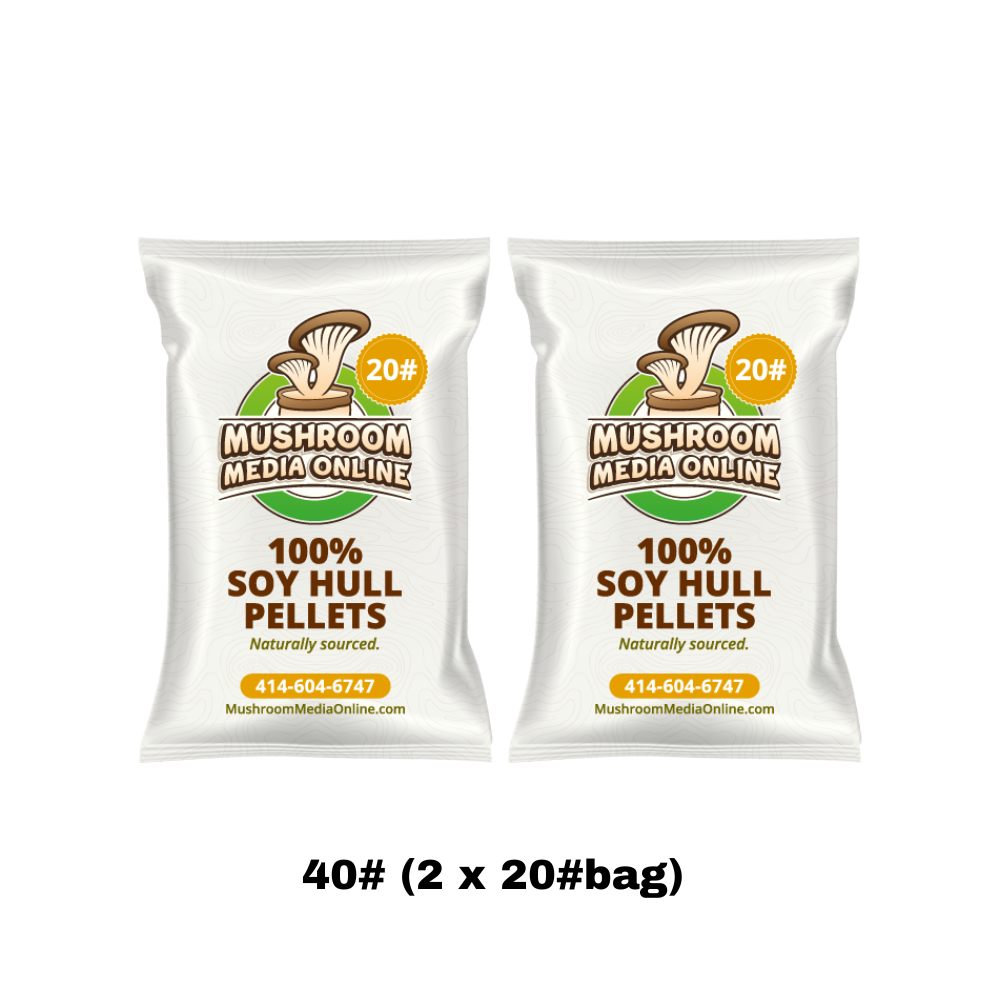 40# (2 x 20#Bag) of 100% Soy Hull Mushroom Pellets - Free Shipping
mush-soy-40
If out of stock, new stock will be available in a week
Would you like to buy this product one time or subscribe for it?
Product Details
Our soy hulls are from fresh farmed soy beans. These hulls are prepared for us into pellets by our Amish pellet manufacturer. These are some of the same great craftsman that have supplied our customers with the hardwood oak pellets for some time now. These contain no oils or extra filler.

Each pellet will break down easy with water and just normal mixing. This makes them ideal for use as an ingredient in mushroom substrate, feed supplementation, and many more uses.

Soybean Hulls provide much needed nutrients to your ideal substrate mix. It is possible to grow mushrooms on many substrates, but if you want the best you want oak pellets, and soybean hull pellets for the ideal mix.
If you are making your own ideal substrate mix, you know there are two key ingredients. 100% Oak Sawdust and Soybean Hulls. These pellets are easier to handle, move, mix, and measure than loose hulls. They also break down just as the sawdust does from hardwood pellets by just adding moisture and mixing.

More about Soy Hulls

Common names
Soybean mill feed, soybean mill run, soybean hulls
Soy Hulls are a by-product of the extraction of oil from soybean seeds. After entering the oil mill, soybeans are screened to remove broken and damaged beans, the soy beans are then cracked and their hulls are removed. These freshly removed hulls can than be used as nutritional supplementation in various ways. These are not intended for human consumption but can be an important part of the food chain since they provide dense nutrients to crops like mushrooms.

Soy Hulls are abundant in 2018 farmers crushed over 2 billion U.S. bushels (120 billion lbs.) of soy beans. Since soy beans contain 3-5lbs of hulls per bushel, that means over 80 million pounds of soy hulls are produced each year. We can also ship larger quantity orders in pellet form to farmers to use as feed supplementation. We understand some beef and dairy producers enjoy the benefits to their operation.
As with our 100% Oak Mushroom Media pellets you can order these individually, or use our request a quote form for bulk orders bagged Soybean Hull Pellets.

During shipping some pellets may break down a bit and be dustier than other varieties of pellets, but this just makes their use easier with a faster breakdown on your end.
Save this product for later